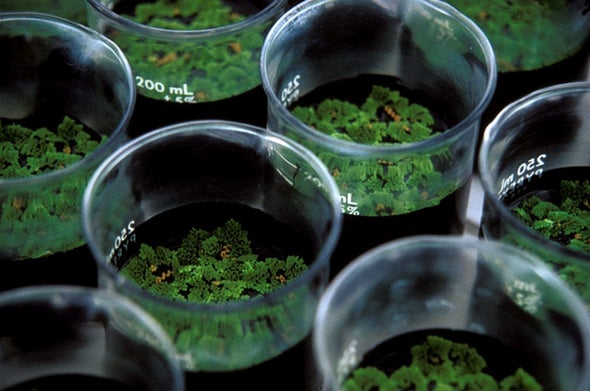 Fifty-five million years ago, when scientists believe the Earth was in a near-runaway state, dangerously overheated by greenhouse gases, the Arctic Ocean was also a very different place. It was a large lake, connected to the greater oceans by one primary opening: the Turgay Sea.
When this channel closed or was blocked nearly 50 million years ago, the enclosed body of water became the perfect habitat for a small-leaved fern called Azolla. Imagine the Arctic like the Dead Sea of today: It was a hot lake that had become stratified, suffering from a lack of exchange with outside waters. That meant its waters were loaded with excess nutrients.
Azolla took advantage of the abundant nitrogen and carbon dioxide, two of its favorite foods, and flourished. Large populations formed thick mats that covered the body of the lake. When rainfall increased from the changing climate, flooding provided a thin layer of fresh water for Azolla to creep outward, over parts of the surrounding continents.
Azolla bloomed and died like this in cycles for roughly 1 million years, each time laying down an additional layer of the thick blanket of sediment that was finally found in 2004 by the Arctic Coring Expedition.
Source:  Jennifer Huizen, Scientific American, July 15, 2014